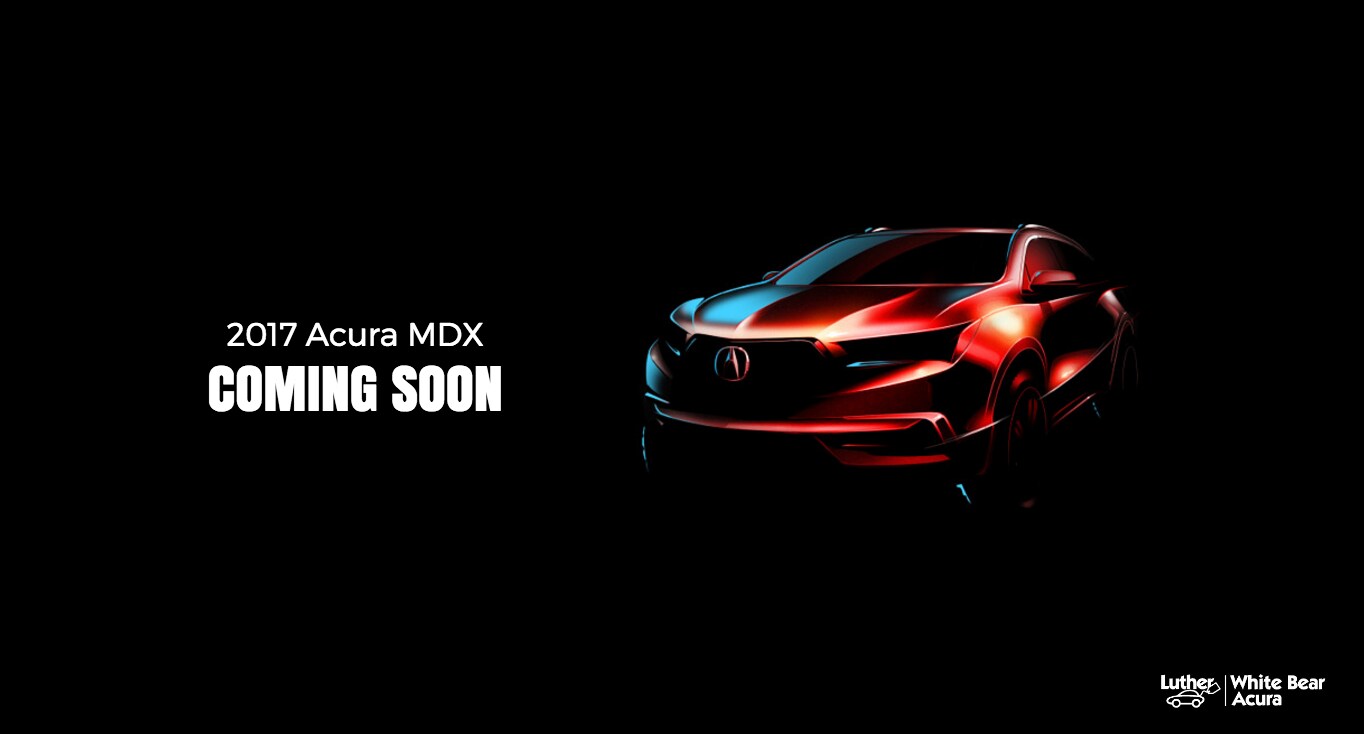 The new 2017 Acura MDX will be revealed at the 2016 New York International Auto Show. America's best-selling, three-row luxury SUV has been upgraded with a new design, new features and upgraded powertrain technology.
---
Find your next Acura at White Bear Acura dealer near Highland Park, MN. Interested in a new Acura? The team at White Bear Acura is here to answer your questions. Contact us by using our online Make an Inquiry tool or call us at 651-481-7000.
You can also chat with us live during business hours on our website.
Here is what we know about the 2017 Acura MDX

The Facts
Acura is not spilling any details yet. The only thing they have published so far is a short press release and front fascia photo. Here is what we know.
The 2017 MDX will be revealed at the 2016 New York International Auto Show on March 23rd, 2016.

With substantial upgrades in exterior and interior design elements, we can expect the 2017 to have a new look to match Acura's Precision Crafted Performance DNA.

The 2017 MDX was designed by the Acura Design Studio in California and will be produced by an Acura plant in Alabama.
What's New?
More information coming soon.
With such a successful predecessor, the new 2017 MDX has a lot to live up to.
The 2016 MDX is the best selling three-row luxury SUV of all time, with over 50,000 units sold in the past three years. It also received top safety ratings from the IIHS with a 2016 Top Safety Pick+ and NHTSA with a 5-star overall score.
Expert Reviews
"The folks at the Acura Design Studio in Torrance, CA, have much bolder styling ready for the 2017 MDX. While these lines aren't as razor-sharp as the Acura Precision Concept from the 2016 Detroit Auto Show, this SUV subtly evokes the sedan's honed look." - AutoBlog
"The redesigned MDX will get a heavy dose of what Acura calls in its new marketing mantra "precision crafted performance" — its new, more aggressive design philosophy. That means the MDX will look significantly different, with crisper contours and a reshaped front end." - USA Today
---
White Bear Acura dealership proudly serves Minneapolis, St. Paul, Highland Park, Woodbury MN from our convenient location in White Bear Lake, MN.
Browse our Online Inventory.