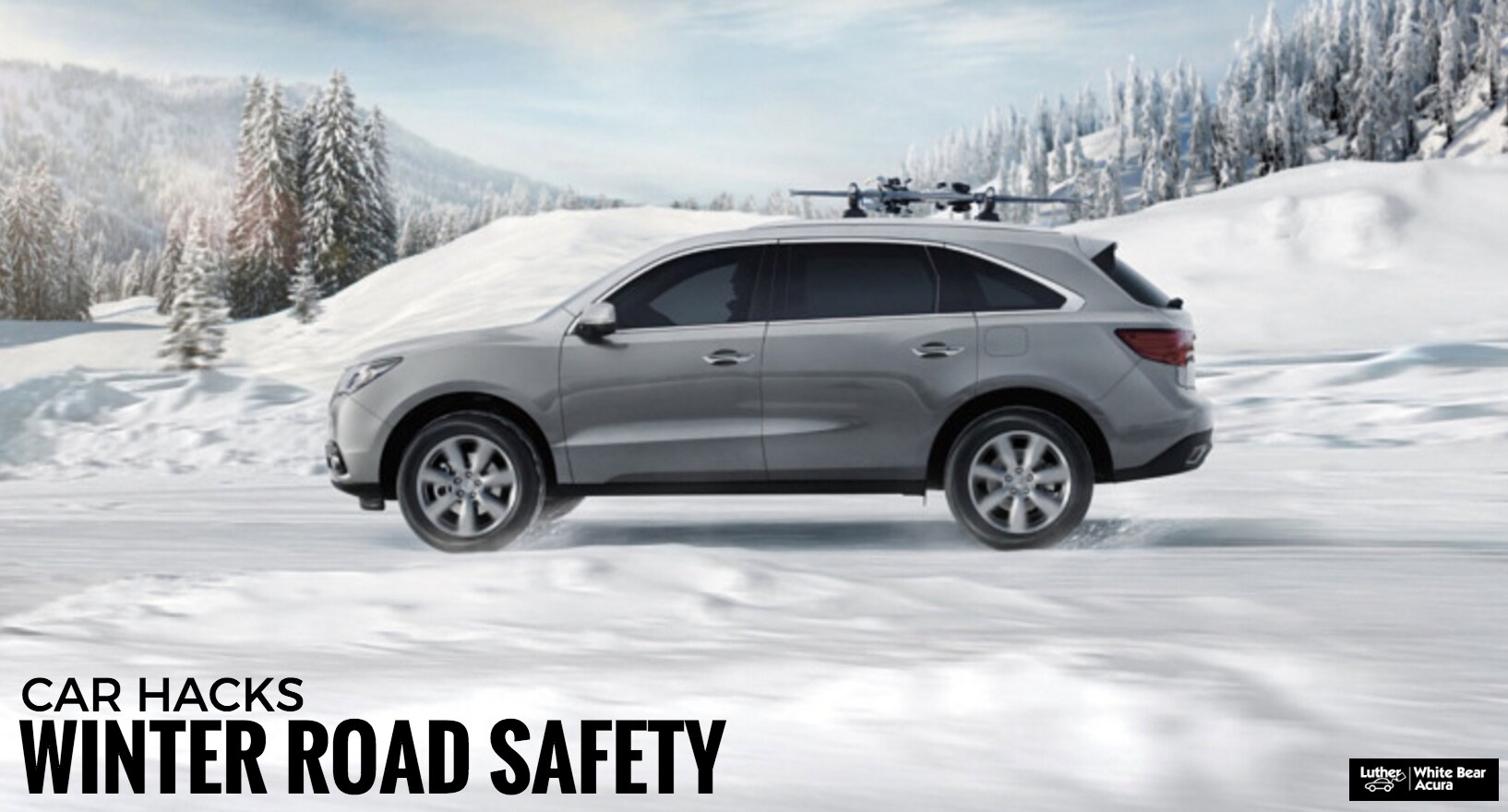 Taking a trip this winter? Here are a few safety tips and car hacks you can use to make sure your trip is safe and hassle-free.
The team at White Bear Acura dealership reminds you to drive safe, check the weather, let someone know where you are going and contact them when you arrive safely at your destination. Make sure your car is in good condition before you leave.
---
Have you heard? The
2016 Acura MDX
is one of the safest SUVs on the road today. Acura's entire current lineup receive top safety scores making it the industry leader in safety performance. Read our blog about it
here
.
Make sure your car is in good condition.
Don't ignore dash lights. Take advantage of White Bear Acura dealership Accelerated Service and have your car serviced in 60 minutes or less.
Blog: Warning Lights on The 2016 Acura RDX - and what to do when you see them.
Tires are important.
Make sure your tires aren't worn down. Invest in a good pair of winter tires.
Full gas tank.
Fill-up as often as you can. You don't want to get stranded without heat.
Blog: 4 Extremely Helpful Infographics for Roadside Emergencies
Keep tabs on road conditions.
There are many apps and websites you can use to check on local weather and road conditions.
Have a survival kit.
Keep an extra bag with blankets and jackets, first aid supplies, an extra cell phone and anything else you might need in an emergency.
Blog: Get Your Car Ready for Winter - simple car hacks for winter.
Stay home.
Trust your gut when the weather is bad. Sometimes it's just a better idea to stay home and stay safe.
---
White Bear Acura dealership proudly serves the areas of Minneapolis, Highland Park and Woodbury MN.
Browse our online inventory.
Does your car need a check-up? Have your vehicle serviced by highly-trained mechanics in Minneapolis. Click here to schedule a service appointment online or call (651) 481-7000