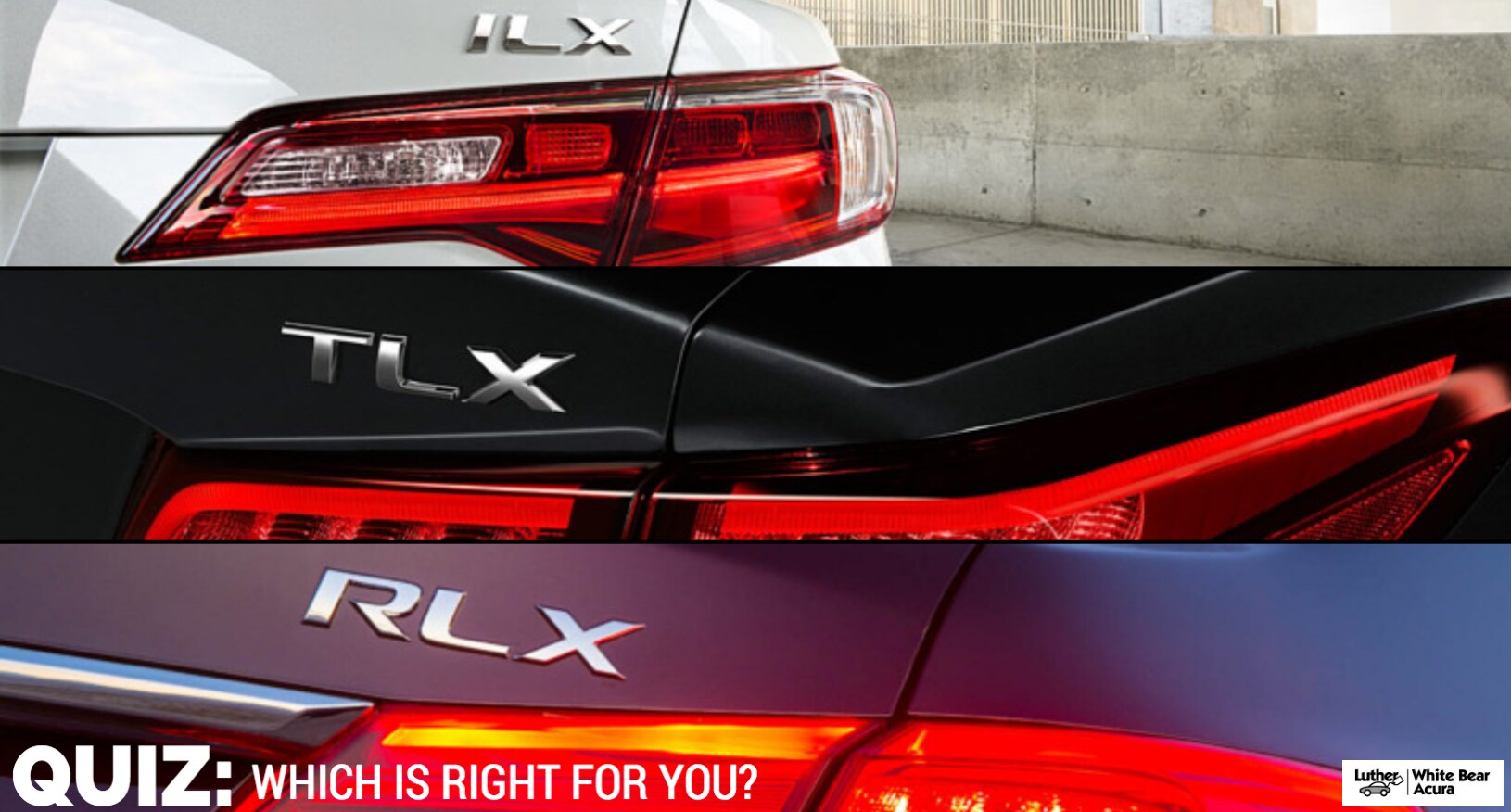 Not sure which sedan in Acura's current lineup is right for you? Here is a short quiz from the team at Luther White Bear Acura to help you decide.
1. Which of these convenience features is most important to you?
Cup holders for coffee

Remote start

Steering wheel controls
2. Which of these best describes how you take your coffee?
To go

Specialty espresso

Always black
3. Which of these would be your top choice for exterior and interior color combinations?
Catalina Blue Pearl | Graystone

Graphite Luster Metallic | Ebony

Black Copper Pearl | Parchment
4. Which of these options would you most like to receive as a gift.
Upgraded smartphone

Gift card to Cabela's

An all-inclusive weekend at the Lutsen Resort on Lake Superior
Mostly A
Check out the 2016 ILX for sale St. Paul. From the time you wake-up, your day is filled with productivity and things to do. You don't dread a busy day, you are prepared for it and might even find yourself enjoying it. The new ILX got some serious upgrades in style, performance and features. It's precision handling and lightweight gives it that fresh, lightning captured feeling when you are behind the wheel. Stop by White Bear Acura for a test drive.
Click here for directions
Mostly B
We recommend the 2016 RLX for sale St. Paul. You have done extensive research on cars. Convenience and luxury features are important to you, but you also want the best deal. You like hybrids, but you don't want to compromise the power of the vehicle. The 2016 RLX is a great choice because it is the only sedan in Acura's current lineup that is available with a hybrid trim.
Mostly C
Test drive the new 2015 TLX for sale St. Paul. You enjoy the classics and appreciate authenticity and quality. The 2015 TLX is the only sedan in Acura's current lineup with a V6 trim level. It's luxury quality and performance are next to none. The best way to learn more about the 2015 TLX is to get behind the wheel.
---
White Bear Acura dealership proudly serves Minneapolis, St. Paul, Highland Park, Woodbury MN and the surrounding areas. Browse our online inventory.
More?
Read: Should you drive an SUV?